FEATool Multiphysics™ version 1.13 is now available and has been updated with a complete suite of CAD geometry and modeling tools, making the FEATool simulation platform a one-stop-shop for all types of physics and engineering simulations.
New Geometry Modeling Tools
The FEATool Multiphysics geometry engine 1.13 has been significantly extended and upgraded to support a comprehensive suite of 2D and 3D CAD modeling and design functionality such as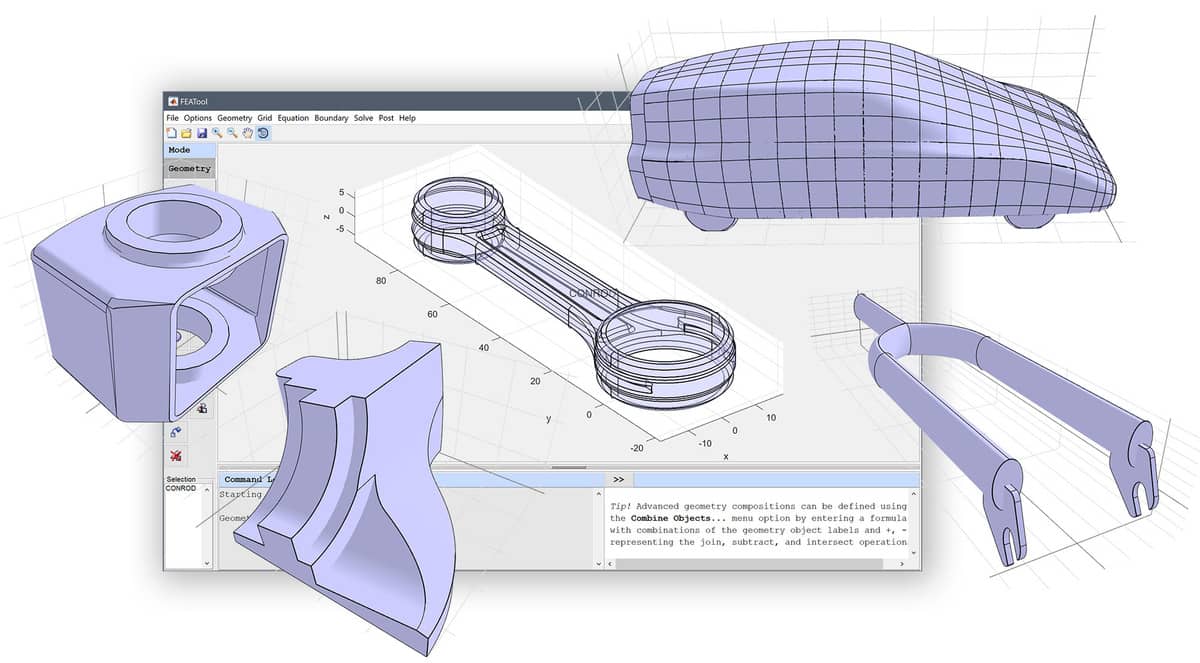 In addition, geometry import and export in BREP, STEP, IGES, STL, and WaveFront OBJ formats is also available, as well as export to fully interactive and collaborative ParaView Glance and Plotly web browser plots.
Solver Monitor Functions
The new solver monitor functionality allows for complete control over solution processes by directly attaching and integrating custom monitor functions to the built-in multiphysics solvers. Monitors are MATLAB m-file scripts with a specific function signature, which are queried during the solution process by the solvers. Monitors can be used to observe, visualize and also stop the solution process when desired, for example if one wants to monitor the temperature at a specific point, or the mean pressure or flow rate over a boundary.
Improved OpenFOAM and FEniCS Solver Interfaces
The Multi-Simulation feature of FEATool Multiphysics allows users to quickly set up and run physics simulations with any one of the OpenFOAM, FEniCS, SU2, and built-in multiphysics solvers, all within an integrated GUI and CLI interface.
In particular, the OpenFOAM solver interface has now been extended to allow for viewing, editing, and exporting OpenFOAM case and dictionary files enabling users to conveniently customize the built-in and pre-defined solver options.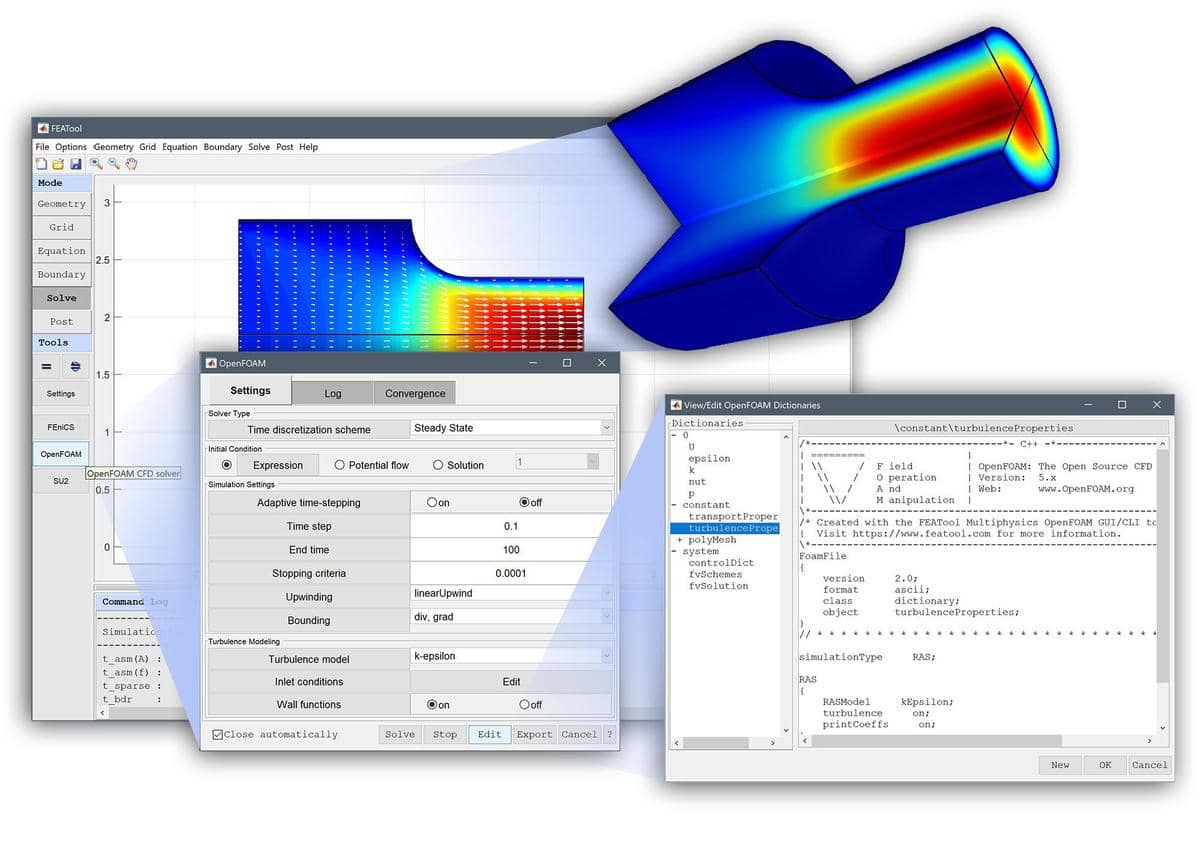 Moreover, the FEniCS FEA solver interface has been extended with full support of time dependent and nonstationary problems as well as nonlinear and discontinuous coefficients.
Highlights in Version 1.13
Upgraded CAD geometry engine with support for 2D workplanes and the extrude, revolve, loft, fillet, and chamfer operations
OpenFOAM case/dictionary file editor and inspector
Improved OpenFOAM and SU2 discretization scheme options
Support for user defined solution process monitor functions
Ability to create and save animations of simulation results
New streamline plot option
Generalized slice plot postprocessing option
Algebraic Multigrid (AMG) linear solver option
Support for boundary and subdomain integral constraints
Full support for FEniCS external solver, including time-dependent models