The easy to use FEATool Multiphysics™ FEA and CFD simulation toolbox version 1.16 is now available. Major new features of this release include significant multiphysics solver, graphics, and visualization improvements for handling larger scale 3D models.
Improved Multiphysics Solver Performance
In FEATool 1.16 and CFDTool 1.9 the built-in multi-physics solvers and algorithms have been significantly optimized to solve models 30% faster on average (and significantly faster for certain model types). These optimizations and improvements are fully backwards compatible, and require no new user input or model modifications. Simply load one of your old models to directly benefit from improved performance right away.
Optimized 3D Graphics Performance
3D geometry and rendering have been also optimized to allow for significantly better graphics performance. It should now be possible to comfortably solve and work with much larger models than before. Moreover, 3D plots now fill up the whole viewport and feature CAD style orbit, pan, and zoom controls, making it easier for users to visualize and view models, results, and simulation data.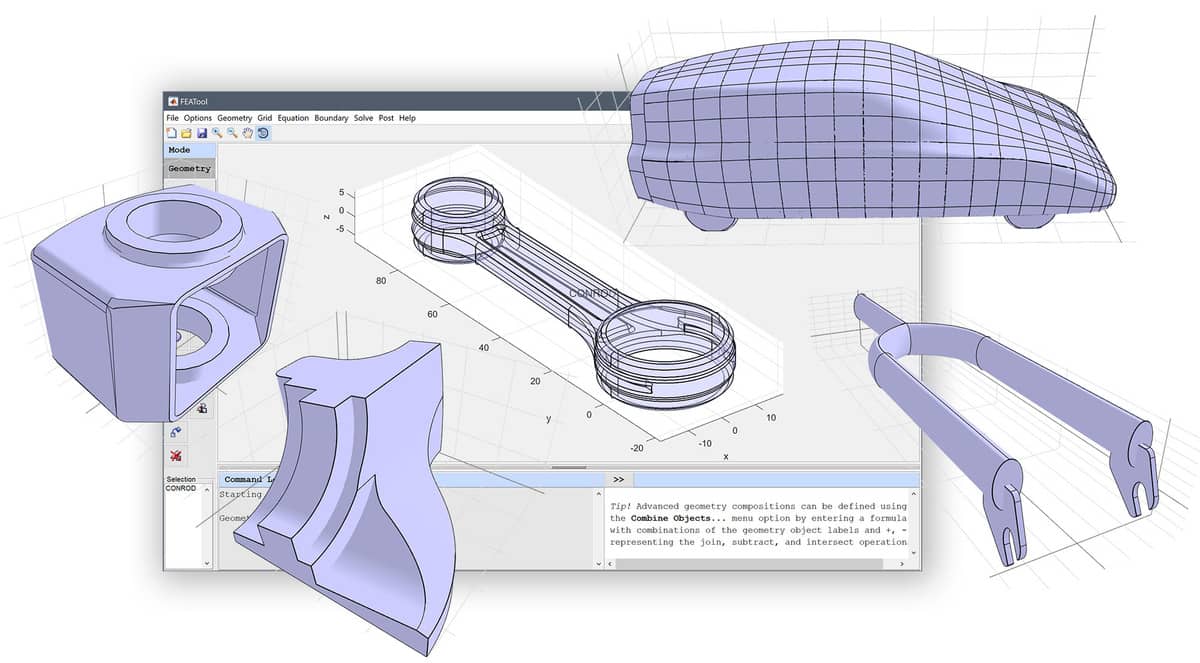 3D Geometry Defeaturing
A new geometry modeling tool has been introduced to assist with defeaturing imported 3D CAD geometries. This type of operation can be used to clean up complex geometries by removing features such as small holes, thin chamfers, fillets, grooves, threads, and embedded text. With defeaturing geometries can be significantly simplified, which makes meshing easier, and simulations more efficient and faster. In the example below the holes and rounded corners and edges are selected to be removed, making subsequent modeling steps faster and easier.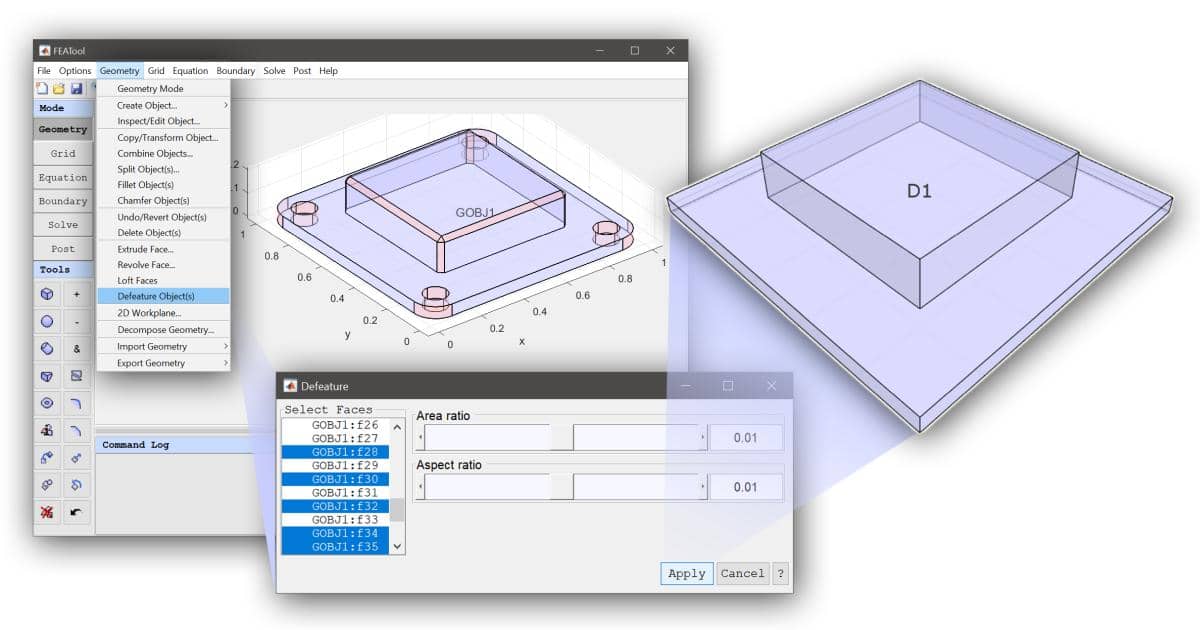 New Features
Other notable new features include
PDF image and Excel data export
Improved save/load model file performance
Edge/vertex selection for chamfer/fillet operations
2D geometry tool for Bezier and spline curves
Binary brep (.bin) geometry format
Geometry import option from bitmap image (bmp, jpeg, png)
Structured meshing of geometry primitives
k-Omega wall function support for SU2 solver
Stand-Alone Simulation Apps
In addition to many new features, both FEATool Multiphysics 1.16 and CFDTool 1.9 are now available both as stand-alone apps, as well as MATLAB® toolboxes for the Microsoft Windows®, Linux®, and MacOS operating systems. When installed as stand-alone app MATLAB® is not required, however when used as a toolbox with MATLAB® user and custom m-file script modeling is enabled. The toolboxes can be downloaded and installed directly from www.featool.com/download and www.cfdtool.com/download, respectively.
About Precise Simulation
Precise Simulation, founded in 2013, is a boutique software developer dedicated to providing simulation software for product design, virtual prototyping, and research in both industry and academia.
The FEATool Multiphysics™ and CFDTool toolboxes™ are fully integrated simulation software platforms for creating virtual models and simulation applications based on physical phenomena. A unique feature is the ability to account for coupled physics phenomena, and seamlessly integrate with many types of (multi-)physics solvers such as OpenFOAM, FEniCS, and SU2.
FEATool Multiphysics is a complete simulation platform for fluid flow, heat transfer, structural, electromagnetics acoustics, and chemical engineering applications. Built-in interfaces enable the integration of FEATool Multiphysics with MATLAB®, physics solvers, CAD, and CAE tools. Simulation experts rely on FEATool Multiphysics to design and develop physics based models and results to their teams, manufacturing departments, test laboratories, and customers worldwide.
Get in touch if you have questions about the software, or are interested in custom simulation solutions.